Dear PointPay Family,
On August 26, 2021, we launched the PointPay staking program. The program's main idea was to encourage active participation in our community by incentivizing long-term holding of a reasonable amount of PXP. As our ecosystem grows, we will lower the rates of the staking program. This would help develop our technology and ensure that we can offer even greater benefits to our customers worldwide.
What is crypto staking?
Crypto staking is the process of locking up your cryptocurrency holdings to earn rewards. It is like depositing your money into a savings account. You earn interest on your money while you sleep. In this respect, token staking is similar to making interest. This is another way to generate passive income in the PointPay blockchain-based bank, along with savings and checking accounts.
PointPay offers several advantages to stakers:
High rates on staking native currency among other centralized exchanges;
No technical knowledge is required;
No minimum or maximum investment amount requirements;
You can predict how much you will receive at the end of the period;
The more you put in, the higher your return.
The PointPay staking program offers our customers a return on investment based on the number of tokens in their accounts. Users can purchase PointPay tokens and then stake them in an interest-bearing wallet on the PointPay website. 100% of all interest earned by staking is paid to the investor. At the end of each calendar year, unclaimed interest is added back to the pool for future payouts. Currently, staking on the PointPay platform is only available for PXP tokens.
Staking with PointPay is very simple — it only requires a few clicks on the platform.
How to stake tokens on the PointPay platform:
Choose an account from which you want to deposit PXP tokens.
3. Enter the amount you would like to stake.
The amount you should receive will be displayed on the right.
4. Select one of the available packages for 3, 6, or 12 months. Please note that you can see the current rates on the screenshot, which will be halved.
5. You need to press "Continue" to confirm the deposit of PXP tokens into the staking pool. That's it! You can claim your rewards at the end of the staking period.
What will change, and whom will it affect?
We are changing the percentage of interest rate you can earn with the PointPay staking program. You can see the APY on a progressive scale below. The more tokens you invest, the higher your reward at the end of the period.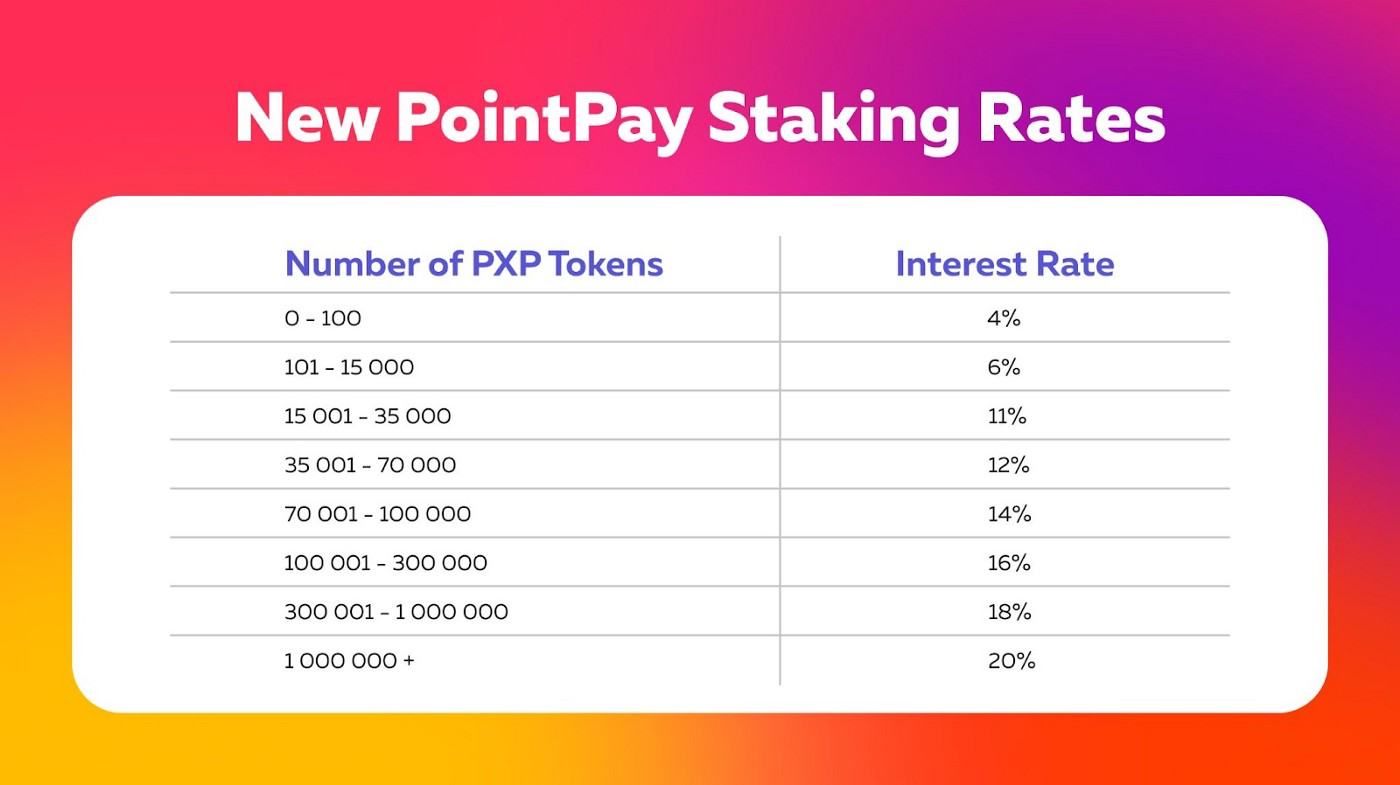 The APY will be lowered for new customers depositing PXP tokens for all periods, such as 3, 6 and 12 months, starting December 20, 2021. Users who deposited their funds before the change will receive their dividends based on the old rate system. So if you plan to stake your assets into the pool, you still have a couple of days to deposit PXP tokens and receive rewards at the old rates.
We are lowering our staking rates on the PXP native currency, but we still offer a higher annual percentage yield (APY) than other CEXes, such as Binance, with up to 8.69% APY on BNB. We are working on adding new currencies you can stake and expanding the options for staking periods.
We are growing as a company and consequently making changes to our ecosystem. PointPay is committed to providing our customers with effective solutions for earning and saving money. It's essential that our community understands how much we value them and care about giving back to our community. Thank you for helping us make PointPay better. Together, we are building the best blockchain-based bank in the world.
---
🔥 Buy PXP tokens on Bittrex: https://bit.ly/32VWsci
🔥 Buy PXP tokens on Bitrue: https://bit.ly/3JEreHu
🔥 Buy PXP tokens on BitHumb: https://bit.ly/3qOK6e9
🔥 Buy PXP tokens on WhiteBIT: https://bit.ly/3qJrjRH
💰 Earn up to 20% yearly with PXP staking program in PointPay Bank: https://bank.pointpay.io/staking
💡 Check PointPay Live-Roadmap (PointPay development in real-time): https://pointpay.io/live-roadmap/
🏦 Remember, we are PointPay, and we are beyond banking!