Crypto gaming has been around since 2017 and has gained wide popularity over the years. Crypto games enable players to earn cryptocurrencies or non-fungible tokens (NFTs) by playing and performing various in-game activities. These digital assets then become the property of the player. They can be exchanged for other digital assets.
Crypto gaming has attracted much attention during the bullish market, but what is the state of crypto gaming nowadays?
Overview of Crypto Gaming and its Challenges in 2022
It is no secret that blockchain technology has revolutionized many sectors, including gaming. Besides cryptocurrencies, blockchain gaming and the metaverse are the next big things in the blockchain. There has particularly been a rise in play-to-earn (P2E) non-fungible token (NFT) games.

Let's look at the blockchain gaming statistics:

1. Blockchain-based game-playing accounted for 52% of all blockchain activity

According to a report by DappRadar titled "DappRadar x BGA Games report," blockchain game playing has surged by more than 2,000% since the beginning of 2021. Current blockchain gaming activity accounts for 52% of all blockchain activities.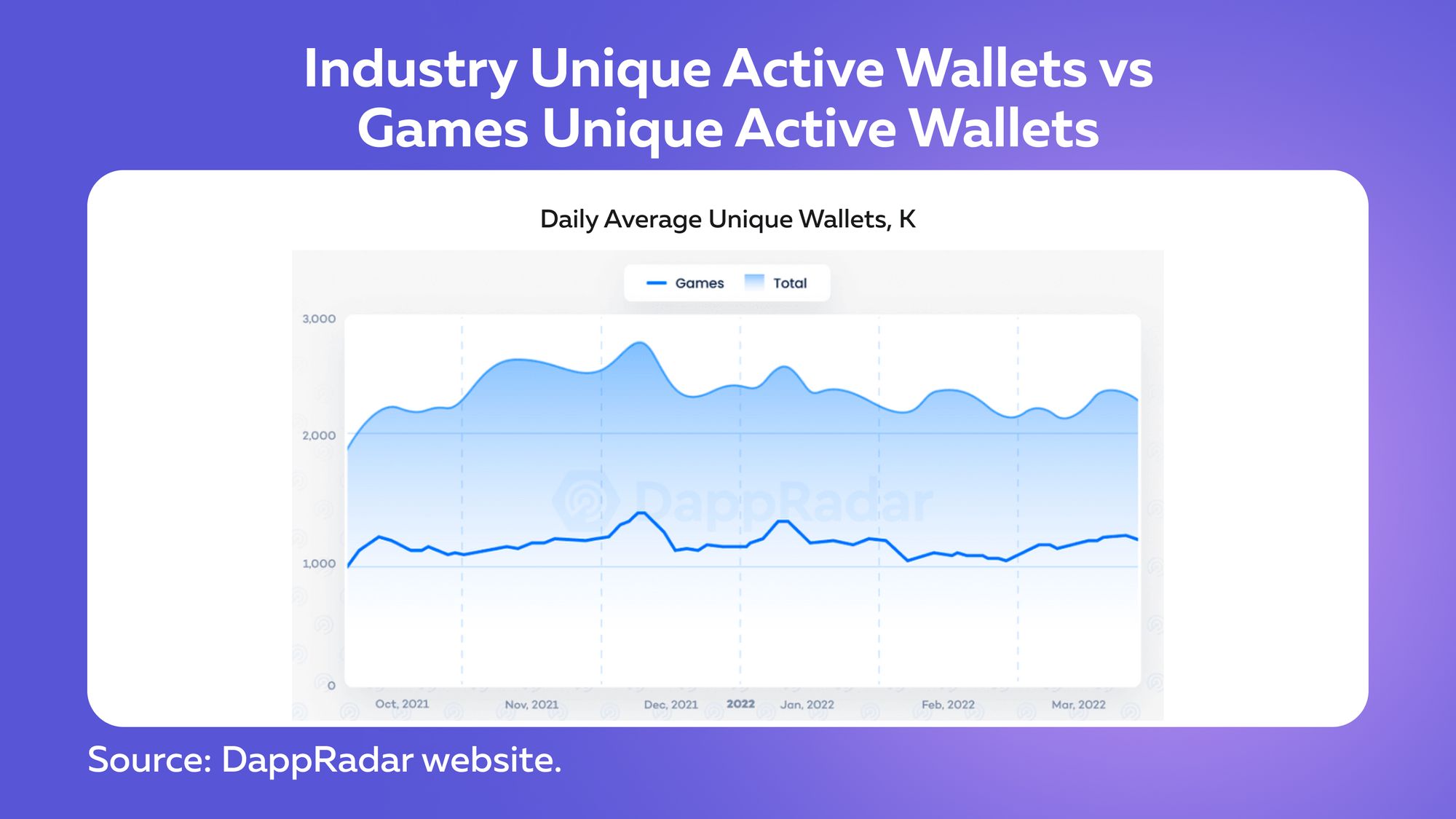 2. Challenging period for Axie Infinity
The Ronin bridge exploit has caused a serious drop in activity in both the Axie Infinity game and the corresponding NFT marketplace. It's an important Ethereum sidechain built for Axie Infinity. As a result, the game saw an 11% decrease in active players during the next 24 hours after the hack. Its native marketplace lost 17% of its user base compared to the day before.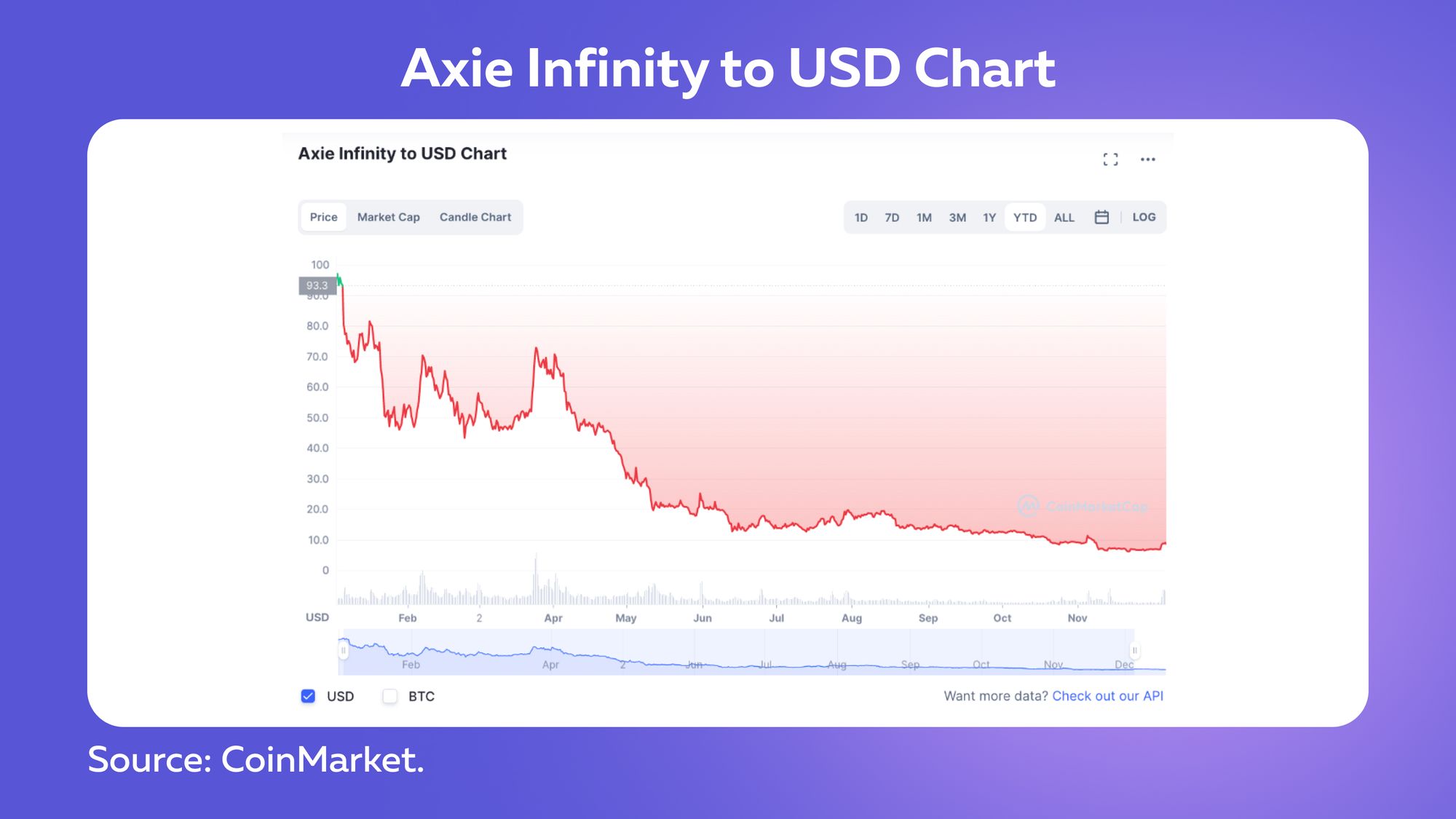 3. Market Volatility influenced Sandbox and other top first-era games like Crabada and Pegax

Metaverse-related assets have not performed well in this volatile and uncertain environment over the past few months due to various events in the industry.
The tokens of top first-era blockchain games have declined by up to 80%.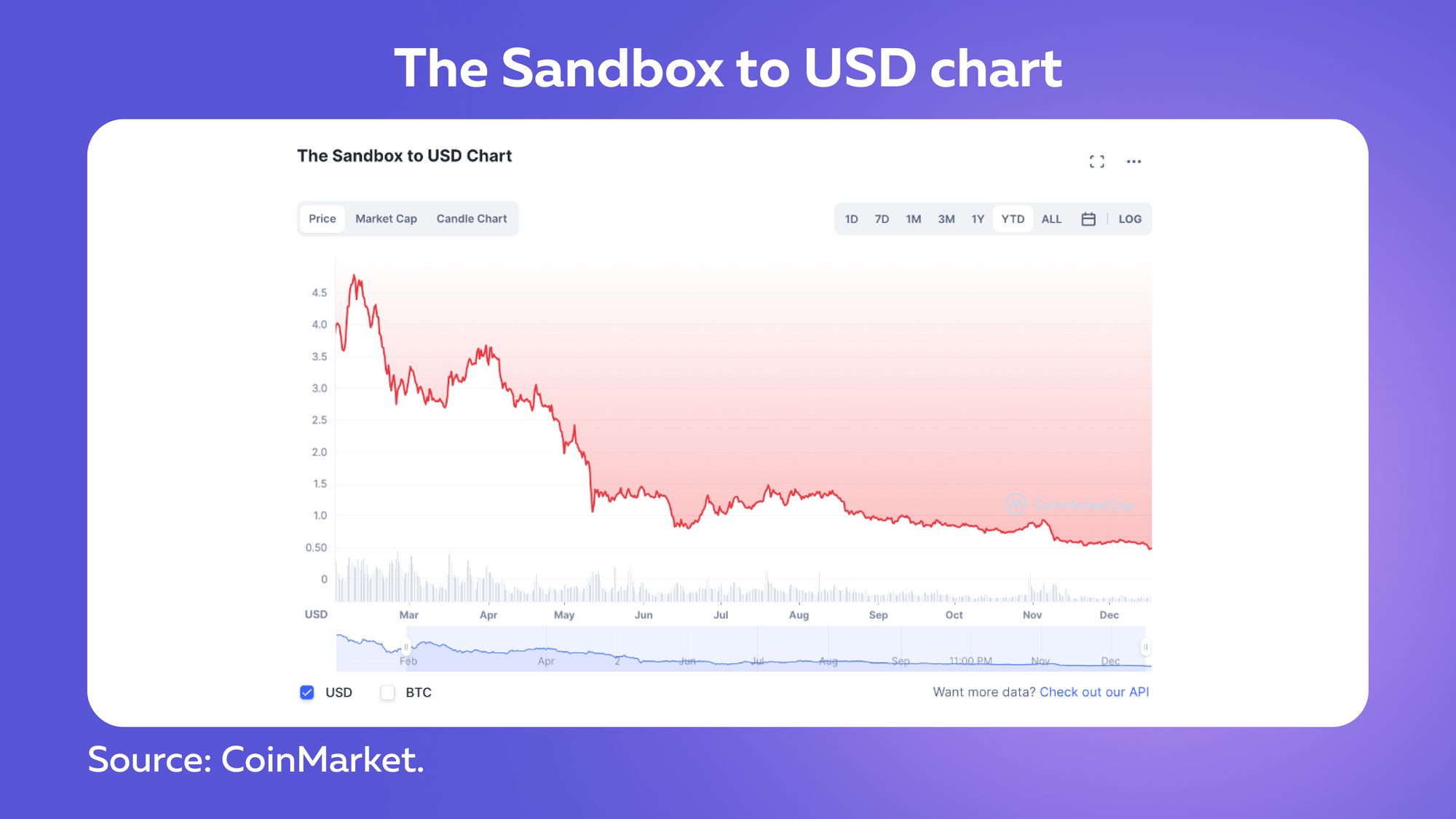 4. Downtrends across game-related assets

When it comes to market volatility, NFT games do not make an exception. Many such projects have dropped in value significantly in less than a year. Moreover, some have struggled to maintain their user bases and drowned in a sea of obscurity.
Let's look at the example of Planet IX, an NFT-based game on the Polygon chain. The game was launched in November 2021 with great success. Nonetheless, the Planet IX token decreased by around 20% during the last several months.
Crypto Games by Chain

Binance dominates the crypto gaming landscape with a total of 36.6% of overall games derived from the network, with Ethereum at a close second at 20.2%. Thetan Arena and CryptoBlades are among the most popular BSC-based games.
Among the top 3 leading chains, Ethereum and Polygon are also counted. All three currently account for around 70% of all Web3 games.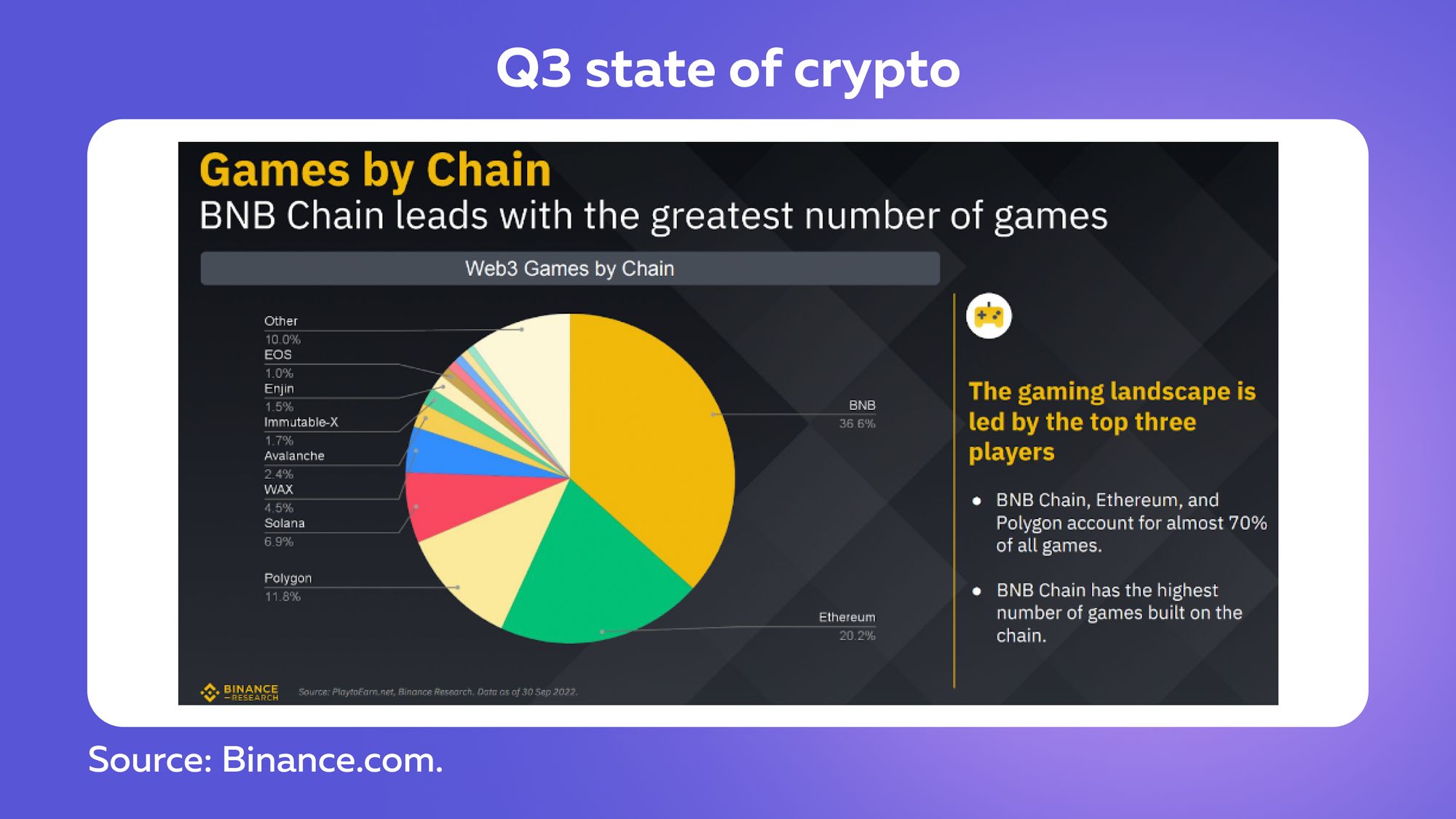 Top 6 games by the number of active users
Crypto gaming will continue to evolve despite market volatility. In the next era of crypto games, developers will incorporate various scalability solutions and sidestep the most significant economic flaws. As of now, here are the top games by their active number of users within the last 30 days:
1. Alien Worlds: Innovative Metaverse where everything is tokenized. It is an NFT-driven game in which users collect and trade unique digital items minted primarily on the WAX blockchain. Alien Worlds was created in 2020 and has been nominated as the top 1 by its active members in 2022.

2. Splinterlands: A collectible trading card game created in 2018. It leverages cryptocurrencies and blockchain technology to enhance online collectible card tournaments. Splinterlands run on the Hive chain.
3. Farmers World: The first farming game to function on the NFTs platform. It was founded in 2021. Currently, it has 66.82K active users. Farmers' world runs on the WAX blockchain.

4. Planet IX: It is an NFT-based strategy and play-to-earn game. Players contribute to building a better planet by acquiring and cultivating land in the form of NFTs. Planet IX was created in mid-2020 and runs on the Polygon chain.

5. Benji Bananas: Allows holders to receive rewards for playing the Benji Bananas game. The game was launched in 2013 but transferred as play to earn a crypto game in 2022. Currently, Benji Bananas is on the Ethereum and Polygon blockchains.

Despite the sharp correction in blockchain gaming-related altcoins, this market segment has proven to be one of the more resilient sectors in terms of retaining active users. This fact, combined with the rising popularity of the gaming industry, suggests that this sector has the potential to lead the way into the next bull market.
Crypto Games Funding in 2022
Gaming blockchains continue to gather financial support to enhance the crypto gaming growth. The industry seems to be doing relatively well even during the hardest times, as more than $2.5 billion in investments was raised in Q1 alone this year, adding that developers could see this figure balloon to $10 billion by the end of the year.
Blockchain games and metaverse projects raised a cumulative $1.3 billion in venture capital between July and September, according to DappRadar's latest BGA Games Report. While this figure was down 48% compared to the second quarter, it was nearly double the total amount raised in 2022.

Though crypto gaming has had its ups and downs, it remains a beloved component of the blockchain gaming puzzle. While only 32.7% of total blockchain games are live, we have not yet seen the full extent of what developers are planning for the genre.
In the next year or two, we'll likely see a surge in crypto games that will catalyze active wallets, engagement, and transactions to new highs. Let's see if crypto games change the whole future of the industry.
---
🔥 Buy PXP tokens on Bittrex: https://bit.ly/32VWsci
🔥 Buy PXP tokens on Bitrue: https://bit.ly/3JEreHu
🔥 Buy PXP tokens on BitHumb: https://bit.ly/3qOK6e9
🔥 Buy PXP tokens on WhiteBIT: https://bit.ly/3qJrjRH
🔥 Buy PXP tokens on CoinTiger: https://bit.ly/3pnv6ny
💰 Earn up to 7% yearly with PXP staking program in PointPay Bank: https://bank.pointpay.io/staking
💡 Check PointPay Live-Roadmap (PointPay development in real-time): https://pointpay.io/live-roadmap/
🏦 Remember, we are PointPay, and we are beyond banking!