The year 2022 turned out to be quite a tough one for the entire crypto industry. In addition, PointPay spent the whole year reworking and redesigning the platform to meet the latest and highest standards. By 2023, the main volume had been completed, and now the PointPay team is working on bringing back a number of services and developing new features.
Moreover, the beginning of 2023 marked the end of the crypto-winter. Not all companies were able to survive it, but those that did proved to be reliable and ready to face the tough market conditions. PointPay was one of those that made it through the crypto winter with its head held high.
Many companies, including PointPay, had to tighten conditions for their users to survive the crypto winter. However, the time has come when we can begin to bring back more pleasant and favorable conditions for you.
PointPay will start by lowering withdrawal fees for most cryptocurrencies on the platform. This is just the first step of many that we intend to take as the market continues to grow.
The changes will be applied to the assets listed below: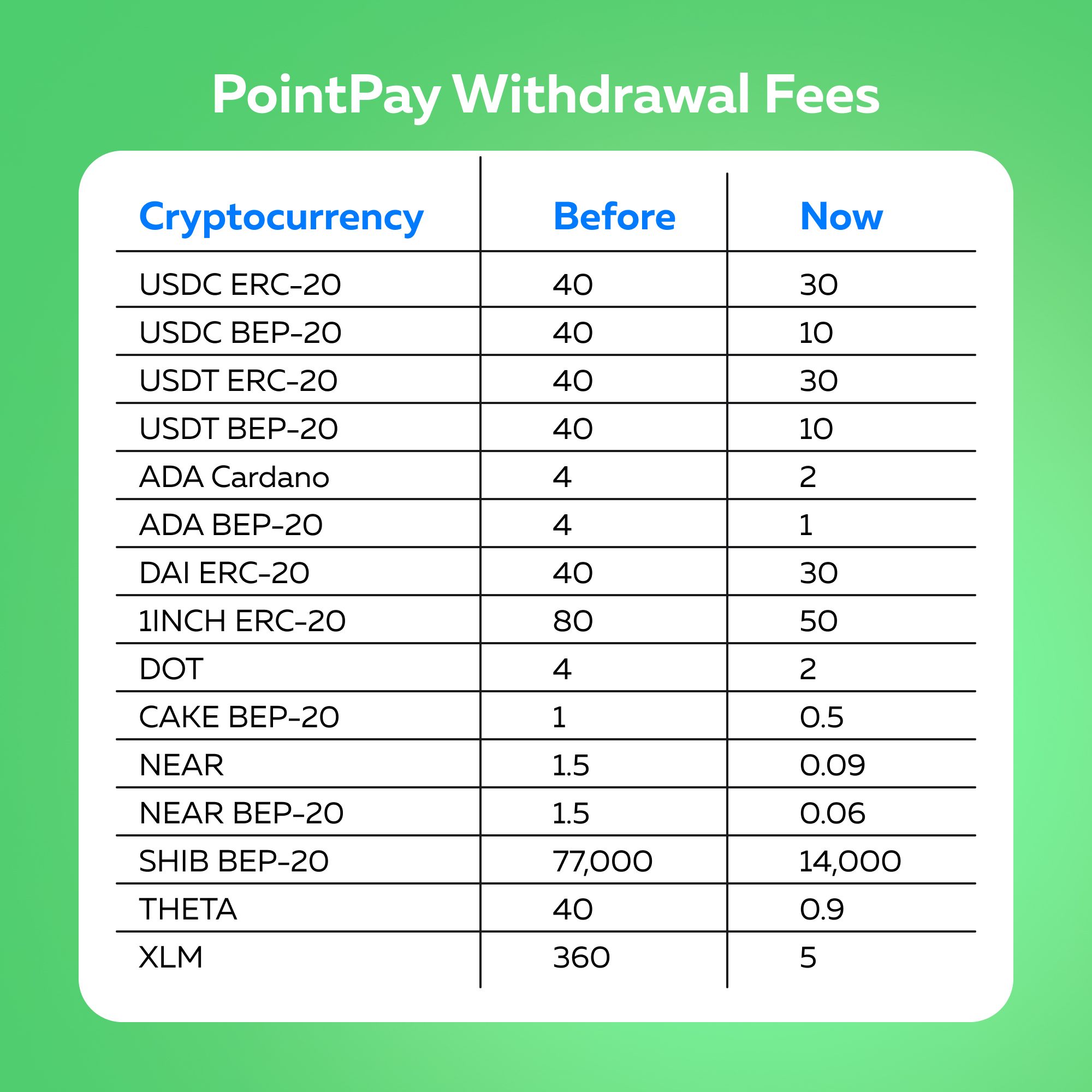 This step is not only related to the end of the crypto winter, but also to upcoming events. Currently, PointPay is actively monitoring and analyzing the market. We are carefully choosing the moment to take action and finally tell a large number of people about our platform. A marketing campaign, a listing on a Tier-1 exchange and much more. All of this will lead to a massive increase in the number of PointPay users, and we want to make sure that our users experience the most pleasant conditions.
We are especially grateful to all those who went through the hardest part of the journey with us - the crypto winter. PointPay is gradually completing the preparations and will soon be able to please you with more innovations and changes for the better. Thank you for being with us.
---
🔥 Buy PXP tokens on Bittrex: https://bit.ly/32VWsci
🔥 Buy PXP tokens on Bitrue: https://bit.ly/3JEreHu
🔥 Buy PXP tokens on BitHumb: https://bit.ly/3qOK6e9
🔥 Buy PXP tokens on WhiteBIT: https://bit.ly/3qJrjRH
🔥 Buy PXP tokens on CoinTiger: https://bit.ly/3pnv6ny
💰 Earn up to 7% yearly with PXP staking program in PointPay Bank: https://bank.pointpay.io/staking
💡 Check PointPay Live-Roadmap (PointPay development in real-time): https://pointpay.io/live-roadmap/
🏦 Remember, we are PointPay, and we are beyond banking!