In 2021, we introduced a Staking program that provided incentives for long-term holding of PXP. As our ecosystem continues to grow, we will lower the rates in order to ensure the sustainability and growth of our technology worldwide.
Starting today, we are reducing PointPay staking rates for all periods twice.
PointPay's staking program offers you a chance to earn a return on investment based on the number of tokens in your account and staking period. The more tokens you deposit, the higher your yield. You can see the APR on a progressive scale below.
Starting August 22nd, 2022, new customers depositing PXP tokens will be subject to a new lower APY rate. Existing customers who deposited their funds before the change will receive their yield at the old rate system.
The Savings account is another brilliant way to earn passive income at PointPay, the blockchain-based bank. To start earning interest, you just need to deposit your funds, and that's it! Compared to staking, your funds are not locked in the Savings account. However, you are not able to transfer funds more than 3 times, otherwise, you will not be able to earn interest.
Savings Account Rate Reduction for PXP
We will also be cutting the interest rate on Savings accounts for depositing PXP tokens from 10% to 1%. A full list of cryptocurrencies available for deposit to the Savings account can be found below, including the current rates.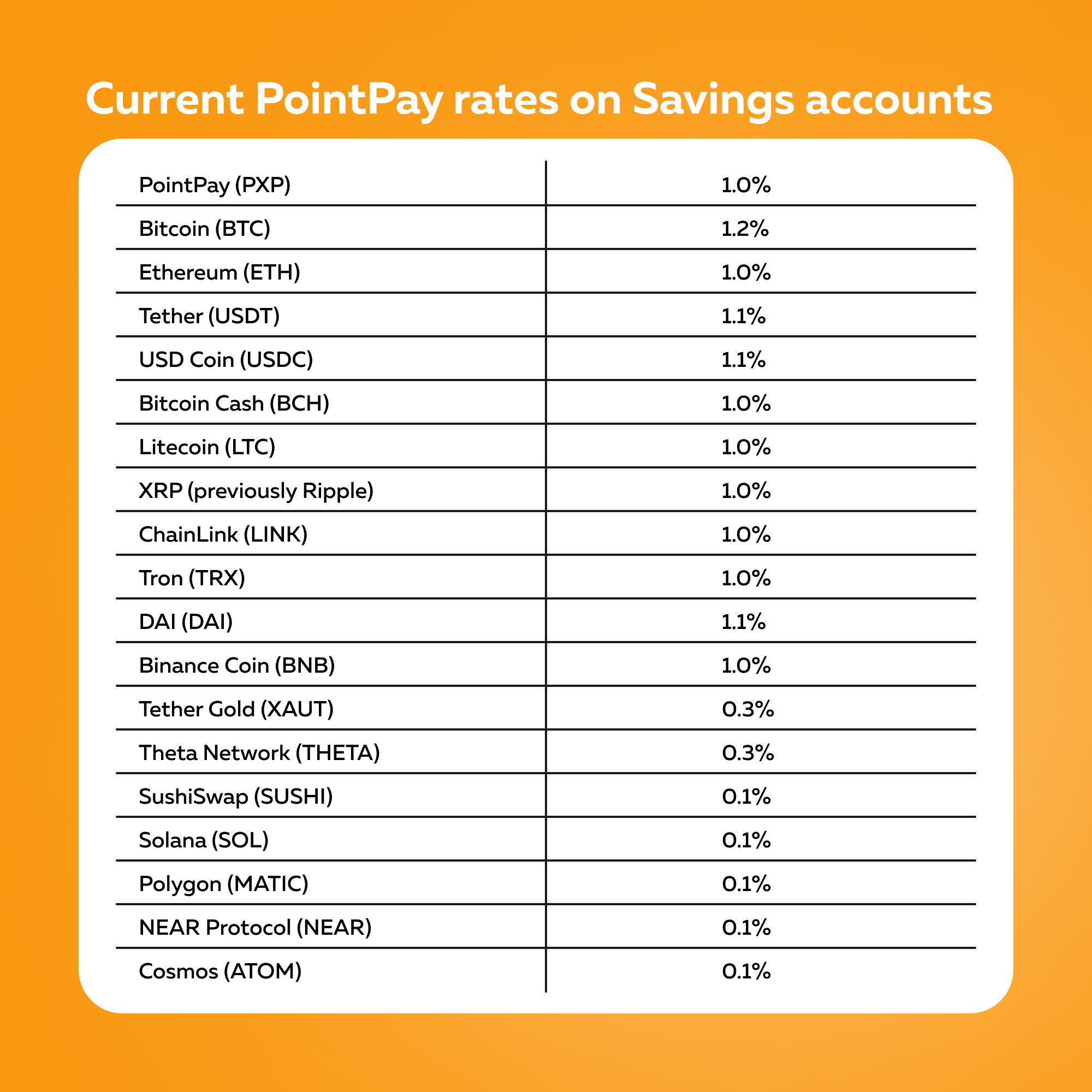 Our Staking and Savings program has been so successful in the past few months that it has become difficult for us to maintain a high quality of service. We're lowering the rates on our PXP native currency.
We are growing fast and constantly making changes to our ecosystem. We're committed to providing customers with effective solutions for earning and saving money. Thank you for helping us make PointPay better. We're building the best blockchain-based bank in the world!