Greetings to all PointPay users!
Today, on August 14th, we are thrilled to announce another significant achievement for PointPay. Our exchange has once again shattered its previous record on CoinGecko's rankings, securing an impressive 22nd position among all cryptocurrency exchanges. A resounding applause is in order!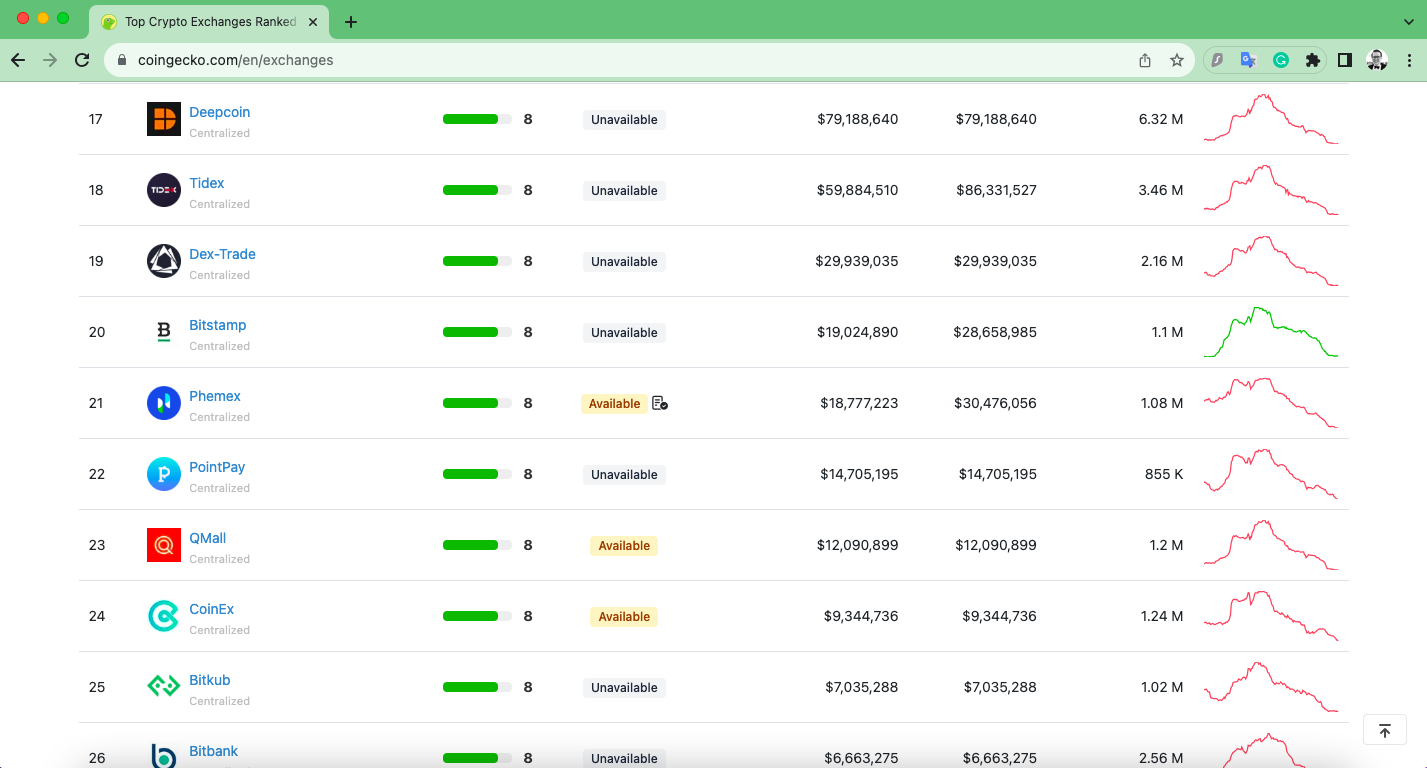 The remarkable ascent of PointPay commenced on August 12th, propelling the exchange to the 27th spot, a position it held until Monday. In essence, PointPay has proudly maintained its presence in the top 30 cryptocurrency exchanges for the past three days.
PointPay is becoming more and more recognized Worldwide Spot Exchange among the entire crypto community!
This notable milestone has been made possible through our unceasing dedication to enhancing the platform and your unwavering support. The deployment of numerous substantial and minor updates, coupled with incessant engagement and the introduction of new tokens, has empowered the exchange to exhibit increasingly noteworthy performance and attract fresh users. This collective effort has fortified our platform's credibility within diverse ranking algorithms, propelling us ever higher.
Naturally, our ambitions do not halt here. We are already strategizing to ascend further! In the immediate future, our aim is to firmly establish our footing within the top 30 and subsequently embark on the voyage to secure a spot within the top 15 cryptocurrency exchanges.
Each and every one of you possesses the capability to contribute to our trajectory. Here are some actions you can take:
Leave a positive review on TrustPilot,
Download our applications, if you haven't already,
Share your affirmative experiences with our applications on both the Play Store and App Store,
Track and engage with PointPay's official social media channels and news updates,
Participate enthusiastically in PointPay's ongoing activities,
Contribute by actively trading on the PointPay exchange!
Collectively, these actions propel us toward our objective, step by step. Together, let's ascend to unprecedented heights and illustrate to the world what an exceptional cryptocurrency platform truly entails!
---
🔥 Buy PXP tokens on Bittrex: https://bit.ly/32VWsci
🔥 Buy PXP tokens on Bitrue: https://bit.ly/3JEreHu
🔥 Buy PXP tokens on WhiteBIT: https://bit.ly/3qJrjRH
🔥 Buy PXP tokens on CoinTiger: https://bit.ly/3pnv6ny
💰 Earn up to 7% yearly with PXP staking program in PointPay Bank: https://pointpay.io/staking
💡 Check PointPay Live-Roadmap (PointPay development in real-time): https://pointpay.io/live-roadmap/
🏦 Remember, we are PointPay, and we are beyond banking!