At PointPay, we aim to make trading easy and profitable everywhere. To help our users succeed in trading strategies, we've recently introduced several new order types, including Good Till Day (GTD). A GTD is a time-in-force order type that is placed and remains valid until it's executed; if not, it gets canceled after the specific set timeframe. A trader can choose to cancel GTD orders at any time.  

GTD orders can stay active up to 30 days, and this order is usually used by investors with long time horizons and can wait for the right timing and growth of an asset. Day traders are unlikely to use GTD orders because they want immediate trade executions based on current market patterns.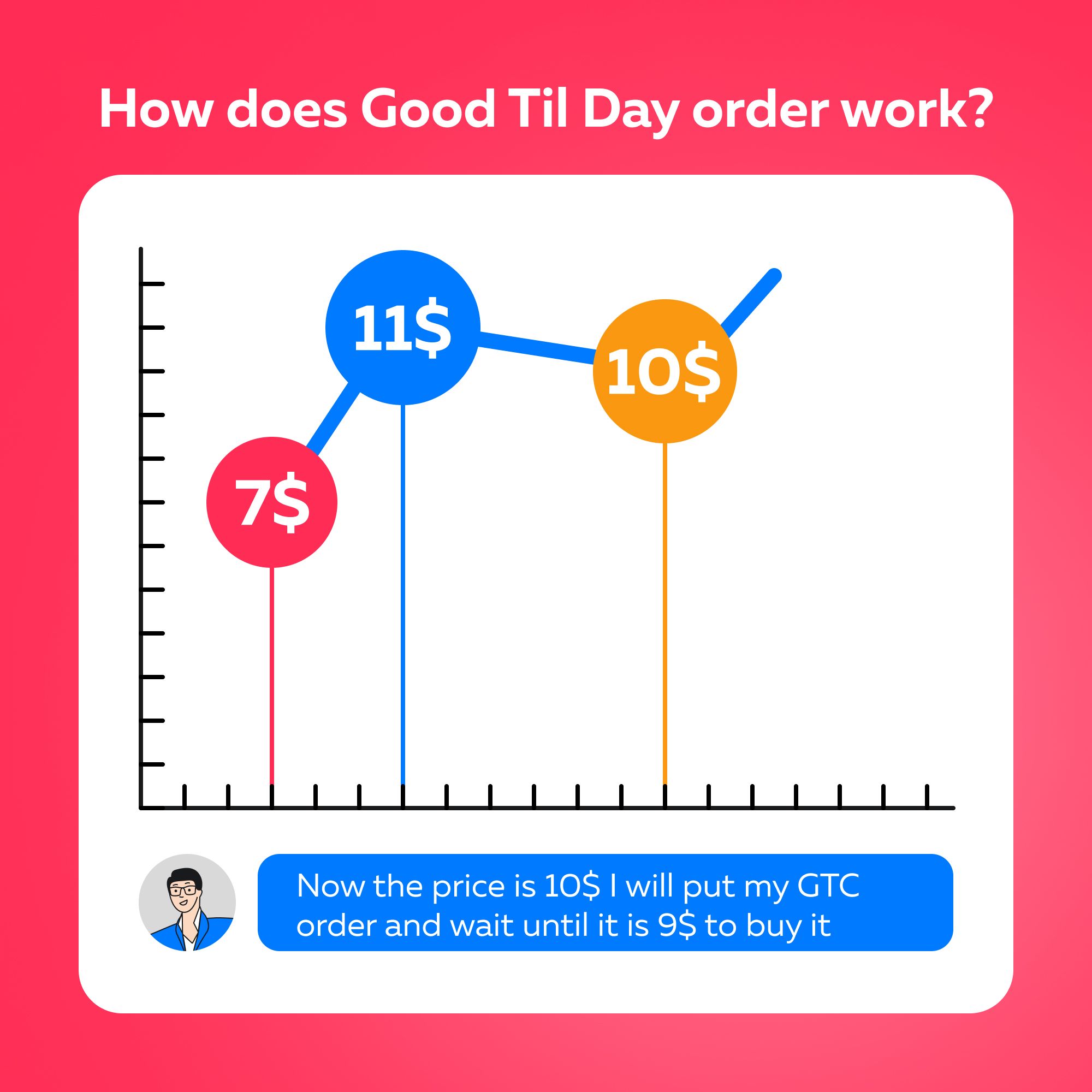 GTD Orders explained
As mentioned above, GTD types fall in the category of time-in-force orders. The time in force instruction defines the length of time a crypto order will remain active before it is executed or expires. Setting up an order according to specific time parameters allows traders to be consistent with the cryptocurrency market structures and forecasts. Suppose you are interested in an asset as a long-term investment but cannot follow its price movements daily. You can use a GTD with a limited order to buy assets at your preferred price without entering the same order requirements daily.
Let's say an asset XYZ is currently trading at an asking price of $48.64, which you think is an overvaluation for its worth. You are willing to buy the asset for $48.00. You can set a limit price at $48.00, and by making this a GTD order, you can forget about it until it executes at the price you want if the price gets there. If it won't, the order will be canceled automatically after some time. Risks associated with GTD orders include executing orders at inopportune moments, such as the brief price rally or temporary volatility.

Sometimes GTD is confused with Day Order types. Let's untackle the difference! Day Orders are exactly as they sound: they will remain active for the current day and then are automatically canceled if they haven't been filled by the end of the trading session. GTD orders stay in effect until they are filled or canceled by the trader.
Benefits of the GTD orders
Every order is executed to meet the needs of a trader's specific trading strategy. GTD orders have many benefits, including:
Time Sensitivity
If you are going to execute big trades and don't have the time to follow market updates daily, then a GTD order can be your best option. It will allow you to wait for your desired price and condition and execute the trade within your given timeframe.

Fewer Risks
You will not fall into the "trading on emotions" when using GTD orders and buying or selling assets under high volatility. If you have a set GTD limit order, your trades will be executed only according to your requirements; otherwise, they will be canceled.
How to place a GTD order on the PointPay exchange
Let's go over the steps of how you can use the Good till Day order on the PointPay exchange!
Log into your PointPay account or register if you don't have an account yet.
2. Click on "Exchange" in the main header section. For now, we will select the Advanced exchange interface.
3. After choosing a market, click on the Buy or Sell field in the upper right corner. In our example, we are planning to place a Buy order. The same steps apply when you want to place a Sell order.
4. Once you have finished selecting "Stop-Limit," scroll down to the bottom of the page and find the "advanced instruction."
5. When choosing advanced, it will take you to a box below where you can select the order type you wish. Choose the "GTD" order type.
6. Upon selecting the order, find below the area to put the price and have the total amount ready to be bought.
7. Press the "Buy" button to complete your order.
That's it! You can check your "Order history" to ensure your order was completed in full. Should you encounter any difficulties with the GTD order type, you can always contact our support and get assistance within several minutes.
Your satisfaction is our first priority at PointPay exchange. We're always striving to provide you with the broadest range of services to help you succeed. The GTD order type addition to our services will provide you with an extra tool for smart trading strategies and opportunities. Knowing how to use it will make it easy for you to investigate all of its benefits. Enjoy GTD orders on the PointPay exchange, and grow your investments on a secure and innovative platform!
---
You can now BUY PXP on Solidbit Exchange, with almost NO COMMISSION! They are practically giving it away for FREE, with 0% withdrawal fees and only 0.000001% for trading. — which is the lowest rate on the market. What are you waiting for? Go and BUY PXP NOW!
---
🔥 Buy PXP tokens on Bittrex: https://bit.ly/32VWsci
🔥 Buy PXP tokens on Bitrue: https://bit.ly/3JEreHu
🔥 Buy PXP tokens on BitHumb: https://bit.ly/3qOK6e9
🔥 Buy PXP tokens on WhiteBIT: https://bit.ly/3qJrjRH
🔥 Buy PXP tokens on CoinTiger: https://bit.ly/3pnv6ny
🔥 Buy PXP tokens on Solidbit: https://solidbit.io
💰 Earn up to 10% yearly with PXP staking program in PointPay Bank: https://bank.pointpay.io/staking
💡 Check PointPay Live-Roadmap (PointPay development in real-time): https://pointpay.io/live-roadmap/
🏦 Remember, we are PointPay, and we are beyond banking!