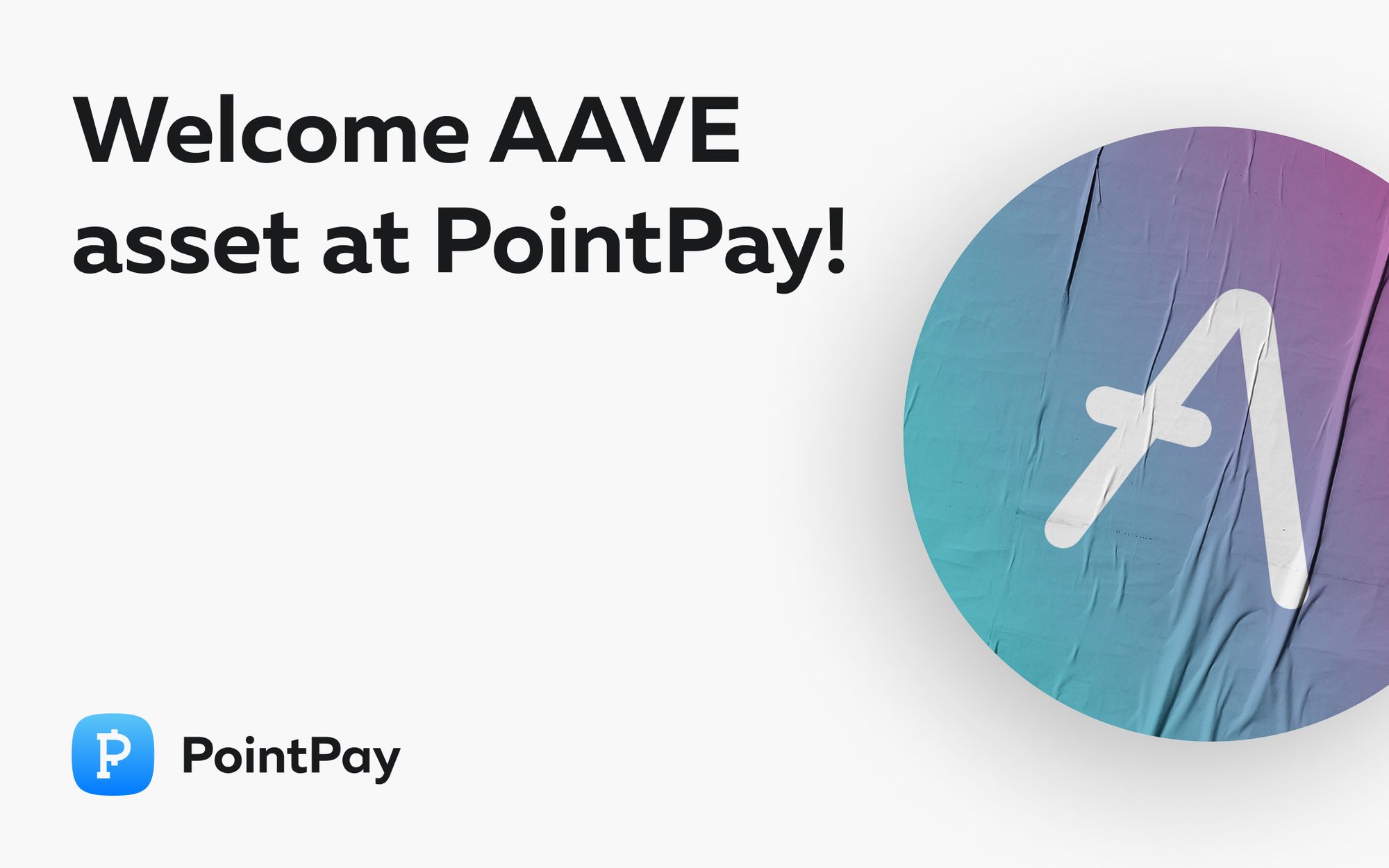 At PointPay, we're always expanding our range of cryptocurrency options to give our users more choices. Our platform is like a constantly evolving collection, and right now, we offer access up to 40 different digital currencies. These include both well-known ones and some more unique meme coins.

Today is an exciting day as we introduce a new cryptocurrency to our platform – AAVE. You can now easily buy, sell, store, and trade AAVE coins on our platform, with AAVE paired with USDT.

But that's not all! To celebrate the arrival of AAVE, we're launching an exhilarating trading competition. Participate in AAVE trading on the PointPay exchange, generate substantial trading volume, secure top positions on the leaderboard, and stand a chance to win rewards in PXP tokens! Get in on the action by clicking this link.

Aave Project (AAVE)
The Aave project is a pioneering force within the world of decentralized finance (DeFi). It stands as a testament to innovation, offering a platform that empowers users to borrow and lend cryptocurrencies devoid of intermediaries. Aave ensures a secure and transparent management of assets through smart contracts.

The primary objective of the Aave project is to empower individuals to make the most efficient and secure use of their assets. Aave also plays an active role in nurturing the development of the blockchain ecosystem by integrating new tokens and supporting diverse blockchain platforms.

Today, AAVE isn't just a symbol of decentralized finance but also a driving force behind the cryptocurrency revolution. Trade AAVE on the PointPay exchange, partake in decentralized financial operations, and reap the benefits of the innovative solutions presented by the Aave project.

At present, AAVE boasts a robust position within the cryptocurrency market, offering a wide range of opportunities for users and a platform that continually evolves to meet the demands of the ever-changing crypto landscape.
---
🔥 Buy PXP tokens on Bittrex: https://bit.ly/32VWsci
🔥 Buy PXP tokens on Bitrue: https://bit.ly/3JEreHu
🔥 Buy PXP tokens on WhiteBIT: https://bit.ly/3qJrjRH
💰 Earn up to 7% yearly with PXP staking program in PointPay Bank: https://pointpay.io/staking
💡 Check PointPay Live-Roadmap (PointPay development in real-time): https://pointpay.io/live-roadmap/
🏦 Remember, we are PointPay, and we are beyond banking!